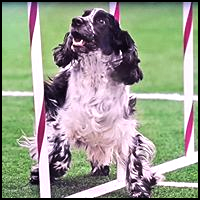 Agility is the ultimate game to play with your dog.
First introduced in 1978 at the Crufts Dog Show in London, England, it is a sport that has exploded in popularity in recent years
Agility requires a combination of balance, speed, strength and coordination for your dog. Great effort should be taken in training so that your dog is always safe and has a good experience. Done properly, your dog will love climbing obstacles, wiggling through weave poles, jumping over poles and diving through tunnels.  Any dog, at any age, can participate.  Here at My Dog Training Center, we take great care in making sure your dog's experience is fun, no matter what their skill level is.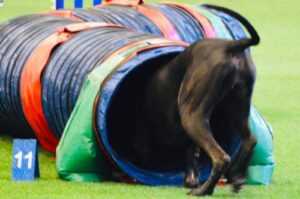 Most dogs learn the obstacles quite easily. Most dog owners find working with their dogs becomes one of the best parts of their day! Together, they find that their bond becomes closer than either expected.
Agility Instruction at My Dog Training Center is done at all levels. We offer a Beginner course that is designed to introduce obstacles in a safe and fun manner so that you and your dog both enjoy learning.
As you and your dog progress through the levels, more advanced skills and obstacles are introduced. Because we have different levels, anyone can begin or continue their agility training here in our climate controlled setting on our regulation equipment.


Also, My Dog Training Center, LLC offers weekly group practice, "Run-Thrus". Nested courses provide a challenge for handlers at all levels, and a separate crating area provides a safe working environment. For a nominal fee, you can have unlimited runs with your dog.  The cost is $8.00 for unlimited runs and free for members.